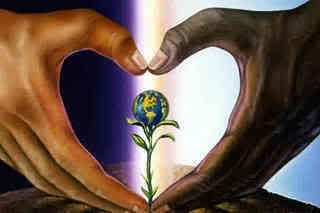 With valentines day quickly approaching I am reminded that love is in the air!  So many of us celebrate V-Day in one way or another, though it does seem that many have mixed feelings about it, depending upon whether or not they have a sweetheart. Well I say fooey on that, you don't need to have a sweetie to revel in the magic of the day.
When I was a child I use to make hand painted valentine cards and give them to my family and friends. I remember the utter joy I had creating them and then seeing people light up when they received them. To this day I still send out valentine cards to family and friends and in this way I am sending my love out to those I love and care about, not just to my sweetheart.
With all of these thoughts of love in mind,  I am also reminded of compassion and the importance of practicing this daily. I would like to take this opportunity to say that my heart goes out to the people of Haiti during this time of unimaginable sadness. I believe it is so important for people around the world to help the people in Haiti and now is the time to do so. Below is a list of stellar relief organizations where you can make donations. If you have already done so, the people of Haiti thank you!
Disaster relief organizations:
www.MercyCorp.org
www.OxFam.org
www.redcross.org
www.doctorswithoutborders.org
" Love and compassion are necessities, not luxuries. Without them humanity cannot survive." – Dalai Lama